Introduction
In January this year, MARC Solutions teamed up with Humanitrain to design and run a series of trauma courses for GIZ in Nigeria. The training took place at three locations, Abuja, Yola and Maiduguri.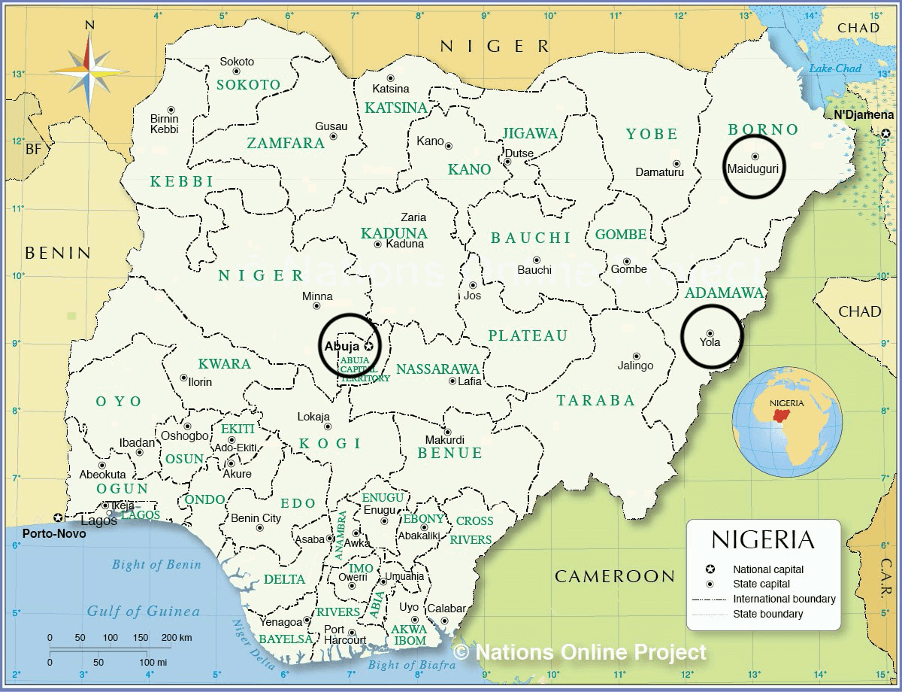 Immediate medical first response, does not exist in any reliable form in these locations. Staff cannot expect ambulances and trained first responders to arrive quickly and even when they do, most are not trained to stabilise casualties before they are moved.
Therefore, at the request of GIZ, our aim was to teach all staff, national and international, the skills required to manage medical trauma in the field, when immediate help is not available.
The Training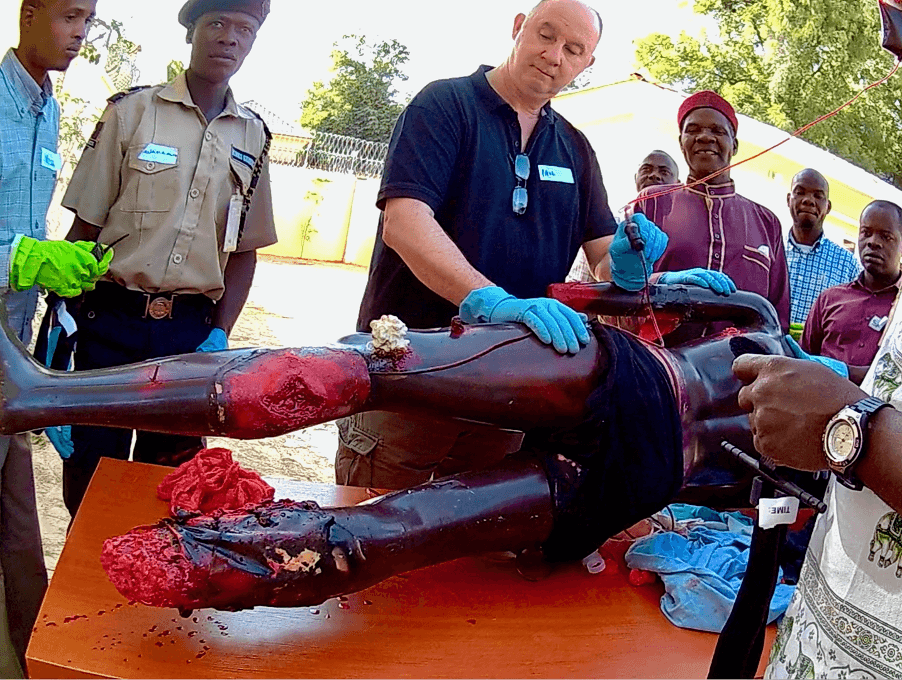 Our teaching methods included some fantastic new training aids, designed to make learning more interactive. Staff actually had the chance to manage a variety of bleeding wounds in real time, with wounds actually bleeding. This realism really brought the training to life.
Staff used the full range of tools, designed to manage catastrophic bleeding. These included - pressure, haemostats, tourniquets, wound packing and more. The wounds included cavities, arterial and venous bleeds, impaled objects, traumatic amputations, cavity bleeds (chest, Pelvis, etc.)
The course didn't focus on bleeding alone, we covered a variety of injuries, all of which were based on the previous experience of the staff. From choking to fractures, burns, blunt trauma and much more. The course was extremely comprehensive and GIZ gave us the right amount of time to cover what was needed.
Putting it all Together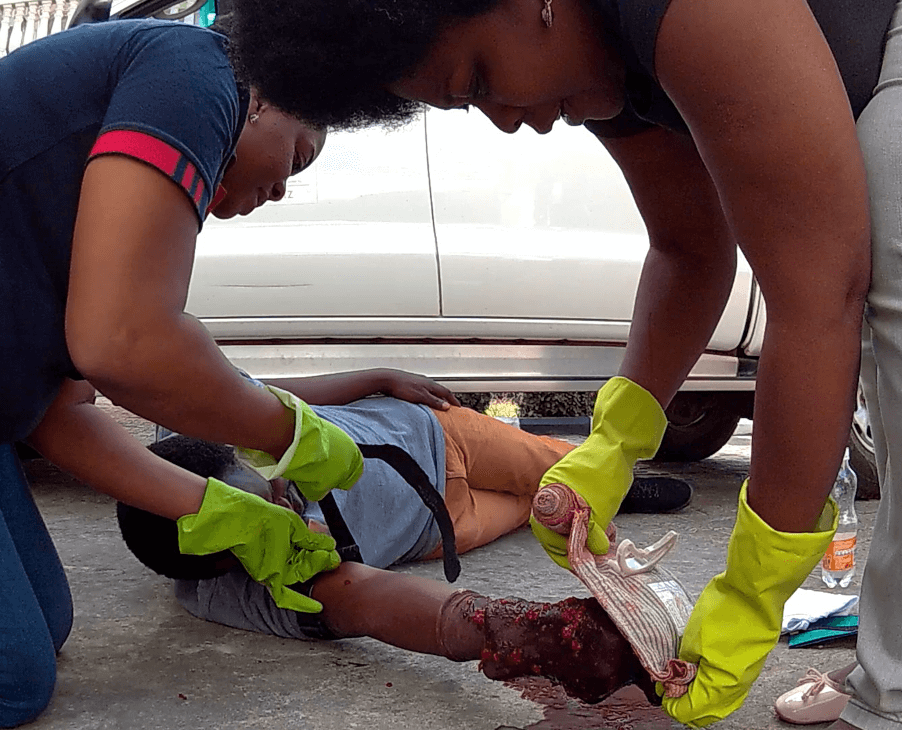 The courses finished with staff having the chance to try out their new skills in realistic scenarios. Each exercise was designed as a test and based on the most commonly seen scenarios and injuries. These included, road traffic collisions and civil disturbance, with injuries the result of blunt trauma, gunshots, stabbing blades and burns.
As always, the initial focus was on dangers to the medics at the scene, followed by stabilisation of the casualties and preparation for evacuation. Staff were taught how to report what they diagnosed and how to monitor and notice changes in a casualties condition. These are important skills, for those who can expect to wait some time for evacuation.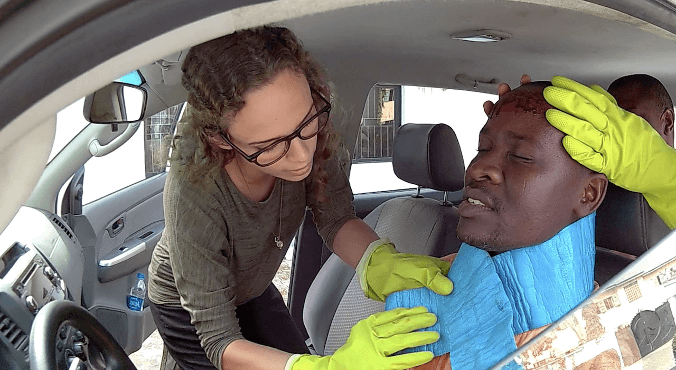 Stabilisation


Feedback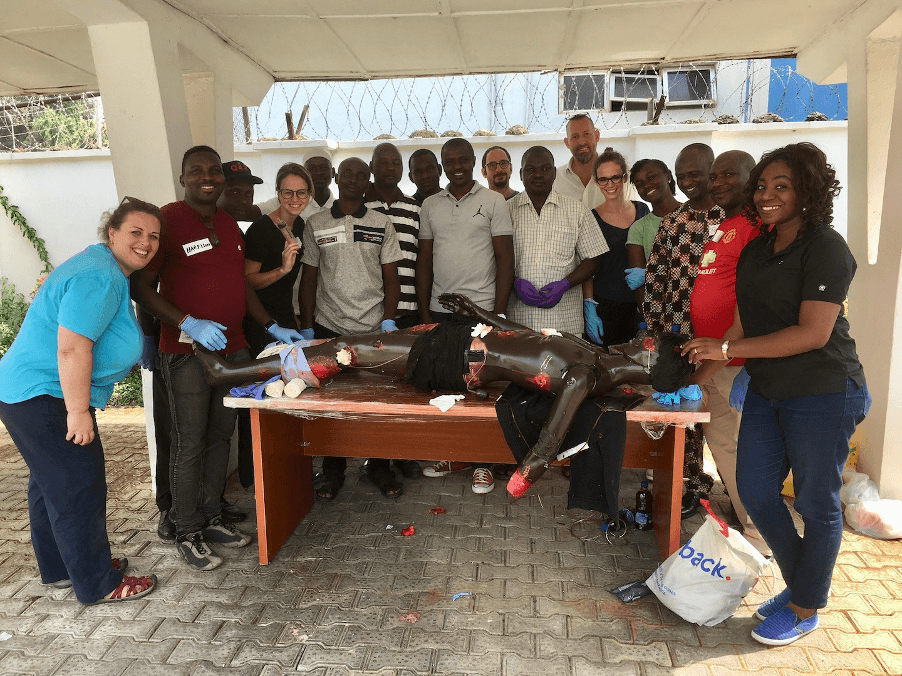 Comments and feedback were fantastic and we were humbled by some of what was said. The only slight negative we received was that staff wanted more of the same!
What we learned
We used a great number of new training techniques on this course, many of which were specifically designed to get around the unavoidable language difficulties. There can be no doubt that the national staff in particular benefitted from the new training methods. By the end of the training, the national staff were every bit as confident and competent as the expat staff, all of whom conversed comfortably in English.
What's next
We are really keen to roll this training out to organisations large and small. The trip to Nigeria proved that we can provide a fantastic and worthwhile service for our clients.
We bring everything with us – training equipment, bandages, blood products, manikins, presentations and more. All the client needs to do is provide a place to train.
We are happy to guarantee that your training will be extremely professional a great deal of fun and provided at the right cost. Should you ever be in the unfortunate position of having to save a casualty's life, this training will give you the best chance of doing so.
Paul Blench
MARC Solutions Worldwide Ltd
+44 (0) 7731 848928